Remember that Lauryn? Or the Lauryn here….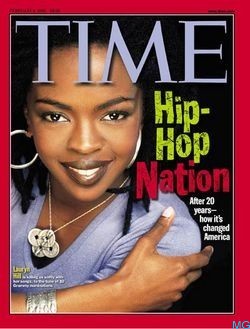 I remember when she was the most inspiring, most beautiful, natural, talented singer/songwriter/performer out. Nothing like todays manufactured singing stripper-dancers. Well, its time for an intervention…or is it 8 years too late?
Now she's usually like this…
Or even worse…according to an eyewitness source, Lauryn Hill performed at the Paramount Theater in Oakland, CA…and maybe hit rock bottom:
"Man, I went and seen Lauryn Hill last night. Broad is crazy. She had that make-up on like a bag lady, like cake face with reds and blues. She wasn't even performing songs, she was chanting and walking around. Then the broad fell and kicked her feet up for like a minute. Never seen nothing like it. Halfway thru, the crowd started booing, then got up and started a revolt for refunds….."
ummm….is there a youtube?….I know folks had their camera phones out.
And just because I wanted to make sure that the person above wasnt just exaggerating….I found a local concert review that confirms the fiasco. This was part of the review at the the Inside Bay Area-Concert Blog.
"The crowd had started to turn on Hill long before she took the stage _ nearly 2 1/2 hours after the showtime printed on tickets. Even with an opener, fans were forced to endure an hour of silence. Little did they know that was going to be the highlight of the night.Once Hill finally made her appearance, fronting a solid 14-piece band that deserved far better than this, things began to quickly unravel. She opened with a jammed-out, improvised number that featured almost no real lyrics and zapped whatever little wind remained in the crowd's sails.
The 32-year-old vocalist then turned to 1998's landmark "The Miseducation of Lauryn Hill" _ a work that, amazingly, still stands as her most recent studio effort _ for a garbled version of "Lost Ones." Her voice was terrible, so harsh, strained and unlike what one hears on the masterful "Miseducation" CD. She also sounded like she's out of shape, huffing and puffing like a weekend warrior after only a few songs.
But it wasn't just her voice that was shaky. Hill stumbled about the stage and, at one point, actually fell flat on her back _ which brought into question exactly what the singer had been doing backstage during the long delay.
Of course, Hill would find that question ludicrous. She blamed her stage fall on her high heels and, later in the show, took the time to assure the crowd that she was sober……."
UPDATE: thank you to the readers who told me about the SFGate story about the Lauryn show and this photo….
Here's a quote:
"Some concertgoers who had paid as much as $89.50 for tickets were requesting refunds even before Hill hit the stage — two hours and 15 minutes after the concert's scheduled 7:30 start and 80 minutes after the opening act, Jupiter Rising, had finished its set. This was an improvement, however, over club shows last summer in San Francisco and Santa Cruz at which her performances began more than two hours behind schedule. Other patrons started their exits during her first song, and the trickle turned to a flow after a speech late in the show during which the vocalist attempted to explain her new musical direction. "I can't fit into a stereotype that makes me comfortable for you," she added. "If that makes me feel uncomfortable to you, I need to find some new company."