Mon 11 Jun 2007
Stack Bundles was killed outside of his home in Far Rockaway….not sure if he got into beef earlier last night while he was partying at Stereo, but his crew, and their capo Jim Jones are besides themselves.
rest in peace.
EXCLUSIVE UPDATE AND SAD DETAILS:
Ok, according to official sources….Stack Bundles, 24 years old, born Rayquon Elliot (I've also seen it spelled Requan Elliot), was shot and killed around 5am in the lobby of his building at the Redfern Houses, 14-60 Beach Channel Drive, Far Rockaway, Queens. He was shot once in the left eye and once in the front of the thigh (not in the neck as some reports have said) by an attacker or attackers who used a 45-caliber gun. He was taken to Jamaica Hospital and pronounced dead 20 minutes later. Allegedly Bundles was not robbed, his wallet was intact, however some rumors say that his chain was missing.
Now street sources claim that Bundles was a victim of a street beef, not a rap beef, with local rivals. Allegedly his porsche convertible was vandalized twice in recent weeks and that an aunt had urged him to move out of Redfern for his own safety. Allegedly, someone tipped rivals that Bundles was leaving club Stereo and that he was not with a large crew, so they were waiting to ambush him when he got home.
Friends say Bundles was very well liked and that he took care of two younger sisters. He was not married and did not have children. Fan have already built a huge memorial in front of his building in Far Rock….Condolences go out to his whole family. No funeral details are set but I'll post them as soon as I hear….
LINK TO XXLMAG.COM'S INTERVIEW WITH JIM JONES ABOUT STACK BUNDLES 
UPDATE:
So apparently, sources at Stereo tell me that Stack was partying with Freaky Zeke and other friends up until around 4am. They did not have any beef at the club and left in good spirits. Stack then went home to Far Rockaway's RedFern Projects and was ambushed outside his building. No idea yet why someone would target him….was it neighborhood tension or hip hop tension?
ugly.
UPDATE:
Lupe Fiasco posted this statement on Okayplayer….I had no idea he and Stack Bundles were so close. I'll try to hit up Joe Budden as well.
"My Dear Friend…it hurt so much to wake up to this…So sad…I've watched from the humble beginnings…when he used to live with me out in Chicago we rocked together everyday…He'd write rhymes in one room and I'd be writing rhymes in the other…He was there with me through many a milestone in my life , the up's and the downs, and I was so proud and happy to see him acheive success in his life at what he loved…Hip-Hop…Stacks was the first person that was signed to 1st&15th way back when it first started FYI…Even beyond that I considered Stacks family…My heartfelt condolences go out to his family and friends in this time of sadness…We all lost a Good Friend today…But He wont be forgotten…May God have mercy on his soul, Forgive him for his sins in this Life, and watch over him in the next…
Love my nigga, I only shed tears for a few and I shed tears for you…
Sincerely, Lupe Fiasco"
UPDATE: Diplomat Records President, and the last person to hang out with Stack at Stereo, Freakey Zeke gave me an official statement…
"I just want to say life is never promised tomorrow, so you have to live your life to the fullest. Sometime you question the lords actions on certain things, but you just got to live stead fast So don't make this a situation where you claim up and go in a shell. Big shout out to the big homie, we love you and will always remember you. Stack is a true solider. I've been is similarly circumstances three years ago and it's really killing me inside. He was young and I'm very saddened by this loss. I was with Stack last night in Stereo and it's just hard to leave someone a few hours ago to hear they had an untimely death. My thoughts and prayers go out to his family especially his sisters."
UPDATE: A statement from the Dipset/Byrdgang Family and Yandy Smith, manager of Byrdgang Records:
"Where do we begin? The Dipset/ByrdGang family is deeply saddened by our loss. Not only did we lose a member but we lost a brother and a friend. Rayquon Elliot a.k.a Stack Bundles was a joy to be around, charming, very intelligent, compassionate and concerned about the upliftment and enrichment of his community and the people in it. Unfortunately his goals and aspirations were cut short by the hands of dream stealers. We can not stress enough that a young star's light was put out before he had a chance to shine in front of the world. We would like this to be a lesson to the rap game…too many of our talented artist are losing the battle of life before their voices have a chance to be heard. Something must change."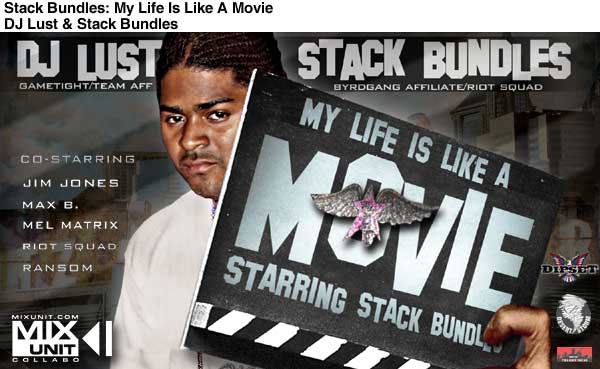 166 Responses to "Rest In Peace Stack Bundles…..dipset/byrdgang member murdered in Queens"
Leave a Reply