Fri 25 May 2007
Hello, so I just wanted to share a couple things that I found interesting this week….
1) Last night everyone was buzzing because Jim Jones and Juelz Santana were said to be coming to the station for a visit to my big homie Funkmaster Flex's show. If you've been reading the various hip hop news sites, you've noticed that in the past few days some of the Dipset crew have been doing press, and presenting a pretty united front about how issues are being worked out, but that the Dipset family is committed to staying together. All good news for dipset fans. Now Juelz Santana did not show up for Flex's show…not sure why, but I've gotten the feeling that he just doesnt want to deal with any drama…and I cant blame him for that. Meanwhile Jim Jones did sit down with Flex but they kept the topics very light….I got some disappointed emails from listeners but thats obviously because most listeners would rather hear fireworks than kum-bye-yah (spelling?).
But I did notice one interesting quote from Jimmy that peaked my curiousity. At the end of the interview, he said: ""They censored me tonite, we being easy. Am I my brother's keeper?"
2) Did you know that the infamous and unfortunate Lil' Cease striptease video is part of the upcoming "Life After Death" DVD? [NOTE: as per the DVD's director April Maiya, the Cease striptease is no longer part of the DVD] It was D-Rock, Biggie's right hand man, who had the footage. In case you weren't keeping track…. D-Rock and Lil Cease used to be very close friends, members of Junior Mafia, touring and living together along with Biggie and then Lil Kim…but ever since Cease's beef with Lil Kim and her perjury trial and the release of Cease's "Chronicles of Junior Mafia" DVD, Cease and D-Rock have broken off ties. (sad, 'cause I remember how tight that whole crew was when Biggie was still alive)
Anyways, so now there's a big struggle between Cease and D-Rock, and their respective DVDs…and the remaining footage that still exists (namely the footage of Biggie which is still private).
Oh, also, this new DVD includes [NOTE: edited part by request of the DVD's creators] crazy footage from everyone, including Lil Kim, Hov, even Supahead, lol. I cant wait to watch this DVD this weekend!
3) Celebrity love notes:
My boy the very trustworthy Jawn Murray has reported that Solange's divorce is finally…well…final. I wonder if that end result is inevitable when your megalomaniac dad forces a shotgun wedding between 2 teens.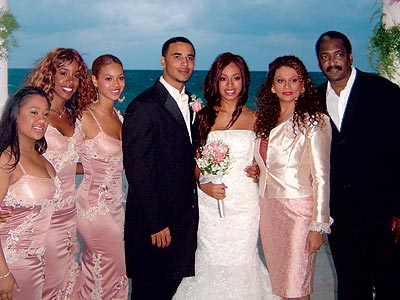 Also, there's alot of talk (like on Sandra Rose and Crunk n Disorderly) about how this chick Buckeey, a Flavor of Love reject, allegedly hinted that she is dating Andre 3000 while she was doing an interview on Sirius Radio……Um, just because you nibbled a man's leftover room service tofu burger and then "slept over" in his hotel room doesnt mean you and he are "dating": )…..but the bigger question is….why was she doing an interview, period, lol….
Finally….According to my fellow sister in radio dish, Supa Cindy, witnesses saw Lil Weezy serenade his ex Trina with a song called "Prostitute Flange" (HA!) and then Trina went on stage and the two had an emotional reunion and said "I miss you, I love you." Here's Fresh's witty take on the whole fiasc…I mean, tender moment.
31 Responses to "Some random observations and gossip……"
Leave a Reply